English Speaking Divorce Lawyer and Marriage Counseling in Tokyo Japan
English speaking legal and counseling help in Japan

Tel: 03-3716-6624

American board-certified psychiatrist and staff with extensive experience in international marriage and family counseling for couples and their families in marital crisis or divorce negotiations in Tokyo, Japan, and English speaking Japan and New York barred international divorce lawyer providing legal help for couples in separation, divorce, child-custody, child abduction, and visitation battles. As a team, we can provide you with the expertise you need thru these trying times.
br>
Divorce Counseling and Legal Help for Divorce in Tokyo Japan

See an article on DIVORCE AND CHILD CUSTODY IN JAPAN written by the Meguro Counseling Center.
Divorce Counseling. Marriages may begin to hit a wall of conflict shortly after marriage. Expectations that the wife will be in charge of all the household activities, new roles as mother or father, changing attitudes on love and intimacy that do not meet initial ideals, relations with the extended family, etc., can all lead to conflict leading to divorce. Frequent and heated arguments are common problems are often seen in couples in trouble. These couples usually do not argue fairly with each other and they escalate out of control. This often leads to a vicious cycle of fights, cold-war, make-up, and fight again. These couples do not realize there can be no winner to a spousal fight, only two losers, and they both stubbornly persist in taking a stand.
The key to the therapy is to elucidate the misunderstanding, to see what the personality styles of the partners are in promoting the misunderstanding, and then to foster adaptive relationship mechanisms and to change expectations. Negotiating child custody and visitation issues with one's spouse can become extremely painful in international marriages. The Meguro Counseling Center has provided fully bilingual marriage and divorce counseling and advice on breaking deadlocks for the international and local Japanese community for many years. We also work closely with a bilingual Japanese attorney and lawyer who practices divorce and family law including child custody and protection in Japan.
The Meguro Counseling Center also has many years of experience helping international couples going thru divorce in Japan and can provide advice and strategy related to divorce and custody that is usually not be part of the standard advice package that may be given by legal counsel in Japan. While the Meguro Counseling Center can refer you to a legal service as noted above, appointments with the Meguro Counseling Center are for counseling services only.
※ The Meguro Counseling Center contributes articles on families, children, and other mental health issues in the Tokyo Families Magazine.
We would be pleased to lend you a helping hand. Please feel free to contact the Center for further information on counseling or legal help for divorce in Tokyo Japan.
---
|Home|Japanese(日本語)|Emergency Information|Counseling Approach|Psychodynamic Psychotherapy|Cognitive Behavioral Psychotherapy (CBT)|Group Psychotherapy| Marriage & Family Counseling|Child & Adolescent Therapy|ADD/ADHD|English Speaking Psychotherapy|Core Issue-Defense Paradigm|Depression Symptom Checklist|Depression & Anxiety|Psychiatric Medication|Clinical Case Examples|Tokyo Families Articles|Mental Health Search/Links|Japan Links|Mental-Health Books|Hong Kong Therapy|Skype Therapy|Corporate Services|Therapist Profiles|Psychologist in Tokyo|Practice Information|Code of Ethics|Location & Therapy Hours|Contact|Doug Berger, M.D., Ph.D.|News Articles|
Counseling Links
The Meguro Counseling Center consists of Western-trained therapists able to provide face-to-face mental-health care for the international community in Tokyo. With extensive experience in Japan, these therapists have a deep understanding of the stresses of living in Japan.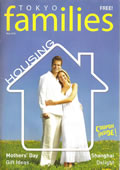 The Meguro Counseling Center provides community education on mental health topics through the Tokyo Families Magazine. Click the image to see the articles archive.
The Meguro Counseling Center has presented on the topic of Post-Partum Depression to the Tokyo Pregnancy Group. Click the image to see information on Post-Partum Depression.
The Meguro Counseling Center contributes counseling proceeds to research work at the Rockefeller University Department of Neuroscience.

Meguro Counseling Center on Twitter (in English & Japanese).
Meguro Counseling Center on Facebook.
Meguro Counseling Center Lecture Videos:
First Visit Evaluation
Common Issues and Their Treatments
---
Other community articles can be read
here
.
---