English Counseling Tokyo Japan
International Mental Health Providers Tokyo, Japan

Tel: 03-3716-6624

Native English speaking American board-certified psychiatrist, CBT therapist, and certified psychology staff provide psychological counseling in English for the foreign community in the Shibuya-Ebisu area of Tokyo Japan (Meguro-ku, Shibuya-ku, Setagaya-ku, Minato-ku area of Tokyo, 25 minutes from Yokohama).
English Speaking Counseling Service In Tokyo Japan
English counseling in Tokyo: The Tokyo Meguro Counseling Center

The Meguro Counseling Center is a group of International Mental Health Providers in Japan, and an English speaking psychology counseling service in Tokyo Japan. The Meguro Counseling Center has published professional papers on the topic of expatriate mental-health needs in Japan, and strives to provide a helping-hand for the English-speaking community in need of counseling services in the Tokyo area. Phone or Skype counseling is also available for those who live at a distance from Tokyo.
The native English speaking therapists at the Tokyo Meguro Counseling Center are a multi-disciplinary group of professionals who provide individual psychology counseling for children or adults, marriage and couples counseling, family counseling, divorce counseling, and group psychotherapy services in English, Japanese, Spanish, and Chinese. The Tokyo Meguro Counseling Center therapists have considerable experience in the therapy of anxiety and depression in Tokyo.
Please feel free to contact the Center if you or a loved one is in need of help.
---
|Home|Japanese(日本語)|Emergency Information|Counseling Approach|Psychodynamic Psychotherapy|Cognitive Behavioral Psychotherapy (CBT)|Group Psychotherapy| Marriage & Family Counseling|Child & Adolescent Therapy|ADD/ADHD|English Speaking Psychotherapy|Core Issue-Defense Paradigm|Depression Symptom Checklist|Depression & Anxiety|Psychiatric Medication|Clinical Case Examples|Tokyo Families Articles|Mental Health Search/Links|Japan Links|Mental-Health Books|Hong Kong Therapy|Skype Therapy|Corporate Services|Therapist Profiles|Psychologist in Tokyo|Practice Information|Code of Ethics|Location & Therapy Hours|Contact|News Articles|
Counseling Links
The Meguro Counseling Center consists of Western-trained therapists able to provide face-to-face mental-health care for the international community in Tokyo. With extensive experience in Japan, these therapists have a deep understanding of the stresses of living in Japan.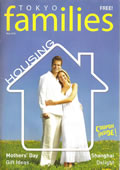 The Meguro Counseling Center provides community education on mental health topics through the Tokyo Families Magazine.