Japan Military & SOFA Mental Health Service
Meguro Counseling Center, in Tokyo or by Skype

Tel: 03-3716-6624

The Meguro Counseling Center in Japan is run by a U.S. Board-Certified psychiatrist providing psychological counseling and/or medication guidance in English for U.S. Military and SOFA-status civilians by phone or Skype, or by direct visit to our office in Tokyo. We frequently work with persons stationed in Okinawa, Sasebo, Iwakuni, Misawa, and the Kanto areas.
We are pleased to help you with PTSD, TBI (traumatic brain injury), anxiety/depression, marriage counseling, ADD/ADHD, and alcohol/substance abuse.
We can have medication prescriptions posted to your home through our affiliated clinics.
You can be reimbursed thru Tricare, a non-military insurance plan, or stay private.
Our hours continue until 11:00pm to accomodate persons working during the day.
The content of your consultations are completely confidential from your command.
English Speaking Counseling Service for Military/SOFA in Japan

Many persons in need of mental health care in the U.S. military prefer to receive private and confidential care off-base. The American therapists at the Meguro Counseling Center are available for either face-to-face counseling or phone/Skype psychotherapy, and psychological counseling, for U.S. military forces and SOFA-status civilians. We are also fluent in Japanese.
We are experienced in individual mental health counseling, marriage and couples counseling; particularly Japanese-Western couples, child and adolescent counseling, family therapy, and group psychotherapy. Many American military and other civilian SOFA-status persons are stationed in Japan, and the therapists at the Meguro Counseling Center are very familiar with the psychological needs of Americans working on military bases in Japan. Please refer to the links on this page for for further information.
Graphics & Tables. Visual aids to describe clinical issues:
Psychopharmacology-Integrated Psychotherapy. The Meguro Counseling Center usually favors an approach that is integrated with psychotherapy when it is necessary to use medication. The therapists at the Meguro Counseling Center have considerable experience in treating psychiatric conditions with psychotherapy in tandem to medication, and your therapist can provide you with information and make specific recommendations to you for psychiatric medication that can be received through our fully-integrated affiliated medical services, either directly or mailed to the convenience of your home. Tricare or other private insurance can cover you for our meetings and medication if necessary.
This is an educational video made by the Meguro Counseling Center on Psychopharmacology-Integrated Marriage Counseling for ADHD that shows an example of how this kind of treatment can work.
Please feel free to contact the Center if you or a loved one is in need of help.




---
|Home|Japanese(日本語)|Emergency Information|Counseling Approach|Psychodynamic Psychotherapy|Cognitive Behavioral Psychotherapy (CBT)|Group Psychotherapy| Marriage & Family Counseling|Child & Adolescent Therapy|ADD/ADHD Treatment|English Speaking Psychotherapy|Core Issue-Defense Paradigm|Depression Symptom Checklist|Depression & Anxiety|Alcohol Treatment in Japan|Psychiatric Medication|Clinical Case Examples|Tokyo Families Articles|Mental Health Search/Links|Japan Links|Mental-Health Books|Hong Kong Therapy|Skype Therapy|Japan Military & SOFA Counseling|Corporate Services|Therapist Profiles|Psychologist in Tokyo|Practice Information|Code of Ethics|Location & Therapy Hours|Contact|Doug Berger, M.D., Ph.D.|News Articles|
Counseling Links
The Tokyo Meguro Counseling Center consists of Western-trained therapists able to provide face-to-face mental-health care for the international community in Tokyo. With extensive experience in Japan, these therapists have a deep understanding of the stresses of living in Japan.
Meguro Counseling Center Community Education: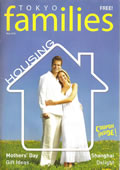 The Meguro Counseling Center provides community education on mental health topics through the Tokyo Families Magazine. Click the link or image to see the articles archive.
The Meguro Counseling Center has presented on the topic of post-partum depression to the Tokyo Pregnancy Group. Click the image to see information on Post-Partum Depression.
Community articles in other publications can be read here.
Meguro Counseling Center Educational Videos:
First Visit Evaluation Common Issues and Their Treatments Interview, Evaluation, and Treatment Example: Obedience-Defiance Cycle Psychopharmacology-Integrated Marriage Counseling for Attention Deficit Hyperactivity Disorder
Meguro Counseling Center Research Activity:
This is a link to The Center's Research Projects.