Tokyo Counseling
Meguro Counseling Center

Tel: 03-3716-6624|E-mail|

We are a Tokyo counseling & mental health center in Tokyo called the Tokyo Meguro Counseling Center. We conduct individual, couples, family, and child and adolescent counseling and psychotherapy. Our Tokyo counseling services include treating self-confidence problems, family and interpersonal relationship problems, depression and other mood disorders, eating disorders, OCD, stressful life experiences, and child and adolescent disturbances. We are pleased to see you direct in our office and can also do effective Phone or Skype counseling if you live far from the Tokyo counseling office.
Charts & Graphs

We frequently look at clinical issues in visual form to help persons in our counseling service in Tokyo.
Types of therapy

Clients receiving help at our Tokyo Counseling service experience a friendly and compassionate atmosphere. We take the work at hand to help these persons seriously and enjoy seeing people grow out of their distress. An eclectic counseling approach using a balance of the different major types of therapy (cognitive/behavioral (CBT), psychodynamic, supportive, group psychotherapy and others) is used to fit with what each individual requires in order to achieve the goals set in the sessions.
Psychodynamic Psychotherapy: Our Tokyo counseling service also provides psychodynamic or insight-oriented psychotherapy. Central driving issues or "core issues" such as feeling inadequate or unloved can engender maladaptive defenses against the issues (i.e. trying too hard to get noticed by others or getting into unhealthy romantic relations) that can be maladaptive for the individual. Realizing that one has these defenses and how they can be maladaptive, as well as minimizing the negative feeling states related to one's core issues is a very useful tool in therapy. Further description of this approach is here: Core Issue-Defense Paradigm, and here are some clinical case examples. Defenses are a common manifestation of the therapeutic work necessary related to these maladaptive behavioral styles.
Cognitive Behavioral Therapy (CBT) is also used: CBT works on negative thinking patterns that often torment and distress people. We use CBT as an add-on therapy for depression and associated symptoms and conditions, or as a stand-alone therapy for situational distress. Analysis of dysfunctional thoughts and rational reappraisals, life planning & strategy for behavioral, social, and mood improvement can be applied in a worksheet and homework fashion to help with self-improvement. This shows how Psychopharmacology-Integrated CBT can be used together as a "medication-illness schema" to integrate with a psychology-psychotherapy scheme in order to become synergistic in effect with counseling and medication interventions.


Depression & Anxiety

Our service also has a keen focus on abnormal mood states, called either "mood disorders" that include depressions and manic spectrum (bipolar) or "anxiety" disorders. Whether depression and anxiety are part of the same underlying mood state or they are separate entities may vary from person to person. Often, psychiatric diagnoses can overlap and be vague and unclear, however, and while a "diagnosis" is used to help the directionality of therapy, there is no real absolute proof of a diagnosis like there is for a medical condition like a tumor, stroke, etc.
This is our Depression & Anxiety Specialists page with detailed information. Sometimes an illness like severe depression or anxiety may require medication in order to allow the talk therapy to jump-start. The therapists at our counseling office have considerable experience in using both non-medical as well as psychiatric medications for these problems. We keep up to date with the many medications used in Western countries that are not yet available in Japan. Your therapist can provide you with information and recommendations regarding psychiatric medication, and the Meguro Counseling Center works together with a number of physicians licensed in Japan who can provide a prescription as appropriate.

We also see persons with Postpartum Deression (PPD) at our counseling center. The incidence of PPD is 5% to 9% of women in the first few months after childbirth but can also occur after a miscarriage. The presentation is very similar to that of a major depression, and is probably caused by changes in brain chemistry that accompany the hormonal and other physiologic changes of pregnancy. Mothers who have had several children without PPD can still experience PPD at subsequent pregnancies.
A related problem is called the Baby blues or Maternity Blues. This is more commonly seen affecting up to 80% of women, is usually mild and transitory, but can last up to a few days. It usually does not require specific therapy.
ADD & ADHD

Our counseling practice also sees many persons with ADD or ADHD: see our ADD/ADHD article in the Tokyo Families Magazine. ADD stands for attention deficit disorder, and ADHD stands for attention deficit and hyperactivity disorder.
ADD/ADHD is usually first noticed in children and adolescents, but a considerable number of adults with attention deficit continue to experience symptoms such as distraction, clutter, trouble with time-management, hyper focus or "zoning" into certain activities. Hyperactive symptoms such as constantly being on-the-go, over-work, impatience, intolerance (especially of persons who seem to move slowly), and others, may also persist into adulthood. This is commonly called Adult ADHD.
There are two major forms of Attention Deficit Disorder; the Predominantly Inattentive Type (ADD) and the Predominantly Hyperactive-Impulsive type (ADHD). Some persons may also have a combined type. While ADD/ADHD has become widely known in society in recent years, many persons do not realize they may have this until it is pointed out to them and explained carefully.
Thank you for visiting our Tokyo Counseling Page
This page has given an overview of the problems we see and some of the potential interventions we might employ. We are pleased to offer our services to persons looking for counseling in Tokyo. We are caring and compassionate in our approach and work together with clients in choosing a menu of therapy choices that best fits their needs, budget, and types of modalities that an individual feels right for themselves.
We would be happy to offer you or someone you love a helping hand at our Tokyo counseling service.




---
|Home|Japanese(日本語)|Emergency Information|Counseling Approach|Psychodynamic Psychotherapy|Cognitive Behavioral Psychotherapy (CBT)|Group Psychotherapy| Marriage, Family, & Divorce Counseling|Child & Adolescent Therapy|ADD/ADHD|ADHD in Japan|English Speaking Psychotherapy|Core Issue-Defense Paradigm|Depression Symptom Checklist|Depression & Anxiety|Psychiatric Medication|Clinical Case Examples|Tokyo Families Articles|Mental Health Search/Links|Japan Links|Mental-Health Books|Skype Therapy|Corporate Services|Therapist Profiles|Psychologist in Tokyo|English Speaking Doctor in Tokyo|Tokyo Counseling|Native New Yorker Therapist|YouTube Channel|Practice Information|Code of Ethics|Location & Therapy Hours|Contact|Doug Berger, M.D., Ph.D. |News Articles|
Counseling Links
The Tokyo Meguro Counseling Center consists of Western-trained therapists able to provide face-to-face mental-health care for the international community in Tokyo. With extensive experience in Japan, these therapists have a deep understanding of the stresses of living in Japan.
Meguro Counseling Center Community Education: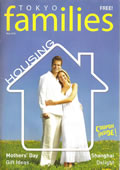 The Meguro Counseling Center provides community education on mental health topics through the Tokyo Families Magazine. Click the link or image to see the articles archive.
The Meguro Counseling Center has presented on the topic of post-partum depression to the Tokyo Pregnancy Group. Click the image to see information on Post-Partum Depression.
Community articles in other publications can be read here.
Meguro Counseling Center Educational Videos:
First Visit Evaluation Common Issues and Their Treatments Interview, Evaluation, and Treatment Example: Obedience-Defiance Cycle Psychopharmacology-Integrated Marriage Counseling for Attention Deficit Hyperactivity Disorder
Meguro Counseling Center Research Activity:
This is a link to The Center's Research Projects.

The Meguro Counseling Center contributes counseling proceeds to research work at the Rockefeller University Department of Neuroscience.